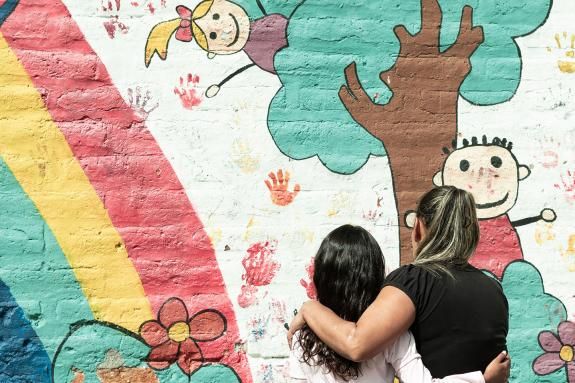 Grants and Partners
Emergency funding
The Ashmore Foundation responds to emergencies across Emerging Market countries to ensure civil society organisations and their beneficiaries are supported at their most vulnerable.
Emerging Markets populations are often vulnerable with little access to resources, influence, information and decision-making, which in turn leads to political, social and economic exclusion. Poverty and inequality often push people to live on the margins in places that are risky, such as alongside rivers, floodplains, marginal land and hillsides, a contributing factor to vulnerable populations often being the most severely impacted in times of emergencies. With the comparative cost of natural disasters as a percentage of GDP being far higher in Emerging Markets than Developed Markets, The Ashmore Foundation responds to emergencies across Emerging Market countries to ensure civil society organisations and their beneficiaries are supported at their most vulnerable.
See below for examples of The Ashmore Foundation's response to recent emergencies (the list is not exhaustive).
COVID-19
Since March 2020, the rapid spread of the COVID-19 virus has significantly impacted the way people conduct their day to day lives. This is particularly the case for communities in Emerging Markets. Daily wage and migrant labourers have lost their livelihoods and disruptions to the supply chain mean that farmers have been unable to sell produce. Moreover, government restrictions have suspended or diverted the interventions of many of the Foundation's civil society partners, severely affecting income.
In order to support communities and civil society partners, in April 2020, trustees have approved ring-fenced funds to support current and former grantees as they respond to the effects of COVID-19 and the related restrictions. Trustees will continue to assess the impact of COVID-19 on plans for future periods.
Previous Emergency Funding
Lombok Earthquake, Indonesia
In July 2018, Lombok was struck by an earthquake and over 200 aftershocks. Many communities in isolated and mountainous regions lost everything as a result. The Ashmore Foundation provided a donation to help fund disaster recovery work by IDEP Foundation, who set up shelters in temporary camps in the north of the island, distributed food and identified displaced families in need of support.
Rohingya Refugees, Bangladesh
In 2017, thousands of Rohingya Muslims were forcibly displaced from their homes in the Rakine district of Myanmar. Hundreds of thousands crossed the border into Bangladesh resulting in camps springing up along the border near Cox Bazar. The Ashmore Foundation support the Bangladeshi organisation Friendship BD to procure and distribute emergency supplies to those living in the camps.
Drought and Famine, Horn of Africa
In 2017, humanitarian agencies declared a crisis across the Horn of Africa as a result of ongoing drought and conflict. The United Nations estimated that 22 million people across the region were facing food insecurity. The Ashmore Foundation provided the International Committee of the Red Cross with a donation to provide essential supplies and relief.
Conflict and Displacement, Yemen
In 2017, The Ashmore Foundation responded to appeals from the humanitarian community to support one of the worst crises as a result of the conflict that has been raging since 2014. The conflict had left millions on the brink of starvation. The Foundation made a donation to the British Red Cross to support their efforts to provide lifesaving relief supplies, food, clean water and medical supplies to those affected by the conflict.
Syrian Refugees, Turkey
The conflict in Syria resulted in millions of refugees fleeing to neighbouring countries. In 2015, the Ashmore Foundation provided support to a range of organisations, helping Syrian families acclimatise to life in Turkey. In Adana, we supported Adana Youth and Young Disabled Sports Club to support young refugees with disabilities. In Diyarbakir, Cocuklar Ayni Çati Altinda was supported to work with young refugees living on the streets. In Istanbul, the Foundation supported Yuva to engage with and provide language and skills training to help refugees start new lives in Turkey.
Earthquake Relief, Nepal
In April 2015, Nepal was struck by an earthquake killing almost 9,000, injuring over 22,000, and leaving tens of thousands of families homeless. The Foundation supported Child Workers in Nepal, Manav Seva Sansthan, Pragya and Kidasha to distribute aid including; food supplies, tarpaulins, and medicines to affected communities across the country.
Himalayan Floods, India
In response to a request from United Way of India, the Ashmore Foundation provided emergency support for communities affected by devastating flooding in Jammu and Kashmir. The Foundation's donation paid for the construction of 13 new homes, which were ready for families to move into before the winter set in.
Ebola Outbreak, West Africa
In response to the Ebola outbreak in 2014, the Foundation provided a donation to enable King's Sierra Leone Partnership to send volunteer health care professionals from the UK to work in the isolation unit at Connaught Hospital in Freetown. In addition to supporting local staff in managing the unit and caring for victims, volunteers provided additional training, and helped develop best practice procedures to contain the spread of the disease. Since the donation was made the team has managed over 1,100 suspected and 650 confirmed cases of Ebola. The donation included a contribution from Ashmore staff fundraising efforts.
---
Charity number 1122351 | Company number 6444943