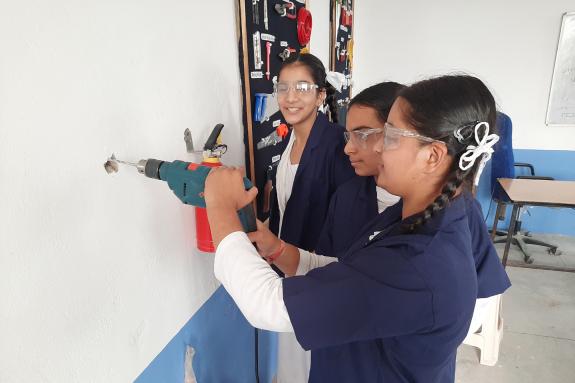 Grants and Partners
Livelihoods, Skills training and Wellbeing
We support organisations that seek to enable communities to access sustainable livelihoods, skills training and promote wellbeing amongst marginalised communities in Colombia, India, Indonesia and Peru.
Providing opportunities for skills training in marginalised communities plays a vital part in developing sustainable livelihoods and in people being able to provide for the basic needs of their families. We seek to work with organisations that deliver programmes and provide resources people need to access independent dignified livelihoods, reduce their vulnerability and provide a sustainable means by which to support themselves.
In working to ensure the wellbeing of vulnerable communities, The Ashmore Foundation endeavours to provide children and young people with a safe environment in which they can grow and focus on their education, empowering them to reduce their vulnerability to factors such as poverty, violence and trafficking. We also seek to work with organisations that defend the rights of children and young people and provide support to those from marginalised communities as they enter mainstream society.
Our approach aims to equip people with skills and opportunities to enable them to become self-sufficient and not rely on external assistance. To this end, we support organisations focused on enduring support that lasts long beyond a projects' end.
Current Grant Partners
Aangan Trust
The Foundation first worked with Aangan Trust in 2012 and has since provided funding for both project-based work and in response to emergencies. The Ashmore Foundation is currently supporting a project to establish child safety hubs in the North 24 Parganas District in West Bengal, with an expected outcome of 3,200 children benefitting from this work.
https://aanganindia.org
Fundación IED-VITAL
IED-VITAL aims to improve the quality of life of low-income, rural and vulnerable populations in a sustainable way by providing access to financial and non-financial products. The Plaza Local platform is a virtual marketplace designed to boost producer livelihoods, shortening supply chains with consumers purchasing directly from producers at a fair price. This 'farm to table' model will be rolled out to 200 local producers, who will have access to workshops on quality production, sales and marketing, digital entrepreneurship and financial management along with ongoing consultancy support.
www.iedmicrofinanzas.com
Lend a Hand India (LAHI)
LAHI aim to contribute to the acceleration of India's development through education and skills development. By partnering with grassroots non-profit organisations, community groups and local governments LAHI create better access to education, vocational training, career development, employment and entrepreneurial pathways. Project Pathways is the latest project supported by the Foundation, which will help students gain practical experience before entering the employment market by completing internship programmes with local businesses aiming to increase post-education employability.
www.lend-a-hand-india.org
Minga Peru
Minga Peru work with marginalised and isolated communities in the Amazon region, where unemployment, poverty and associated social issues are high.  The radio programmes they produce are one of the most effective ways of enabling communities to discuss openly and begin to address the issues they face.  Minga Peru combines this with locally sustainable income generation opportunities to help communities improve their lives.  The project, strengthening leadership and entrepreneurship of teenage girls in Peru's Amazon in the face of COVID-19, empowers adolescent women to improve personal development by running their own vegetable gardens and learning about management and marketing. 
www.mingaperu.org 
Salva Terra
Salva Terra support food security and livelihood development of rural smallholder farmers and their families north east of Medellin, Colombia by developing agricultural skills and raising awareness on environmental conservation. This project works through rural education centres and local schools to provide skills, expertise and tools for schools and communities to establish their own orchards (plantations) in which they will grow fruit and vegetables. In addition, Salva Terra provides training on nutrition so families can relearn all the elements needed for a balanced diet.
http://fundacionsalvaterra.org/es/inicio/es/inicio/en/home
Unltd Indonesia
Unltd. Indonesia provide financial assistance to social enterprises across Indonesia. They do this through an incubation programme where they work with early stage enterprises to help them develop their business models and put in place the strategies and structures necessary to grow the organisation. Alongside this they provide the most promising organisations with short term loans for working capital and introduce social enterprises to potential investors and donors. Unltd. Indonesia are also engaged in developing the social enterprise eco-system across the country and Southeast Asia region.
https://unltd-indonesia.org
---
Charity number 1122351 | Company number 6444943